Diwali – A Small Snapshot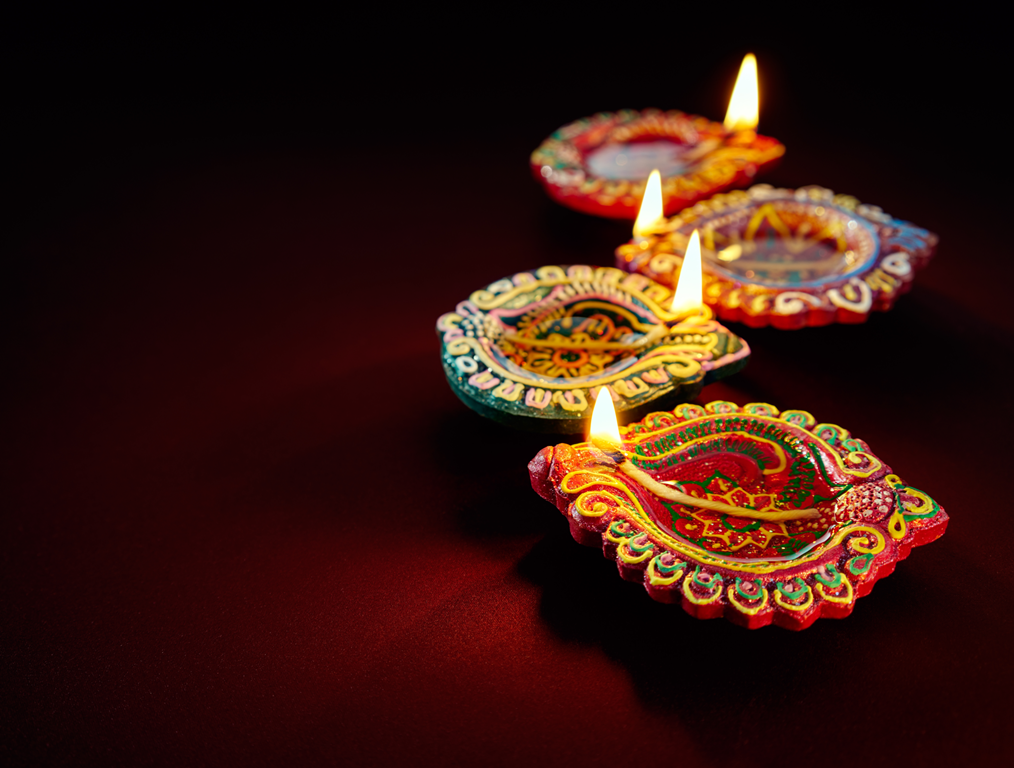 Lights, Camera, Festival!
As globally we enter the holiday season Vendor Experience (VE) is excited to share what we learned about Diwali, also known as the "Festival of Lights which took place at the beginning of December. During the festivities Experience had the opportunity to connect with linguists and conduct online interviews to hear the ways they specifically acknowledged and celebrated. Through these informational interviews we explored activities and positive messages the holiday invokes for our Freelance Experts and their personal communities.
Diwali is considered one of the most awaited and celebrated festivals of India and is one of the major religious festivals in Hinduism, Jainism, and Sikhism. A great resource to authentically explore the rich cultural, historical, and religious significance of Diwali is within the Hindustan Times. Additionally one of TransPerfect's Senior Special Projects Managers shared through Instagram this helpful and comprehensive slide deck. While there is so much more to Diwali than what can be covered in a paragraph or a single blog, today we are focusing on what TransPerfect linguists shared about the holiday.
What Celebration Looks like – 6 Ways Freelance Experts Honor Diwali
Certain rituals evoke the seasonal spirit during holidays. Here are six linguists and six ways our experts chose to intentionally acknowledge and honor Diwali.
"Going to the temple, ceremonies at home where friends and relatives are greeted and welcomed."
"Lighting lamps and offering prayers, while sharing sweets, and spending time with family and friends."
"Decorating houses, sharing not just sweets but gifts which can symbolize care and love between giver and recipient."
"Using lights, candles and diyas (lamps that signify goodness and purity) to decorate a home. Wearing traditional clothing and, again exchanging sweets and gifts with near and dear ones."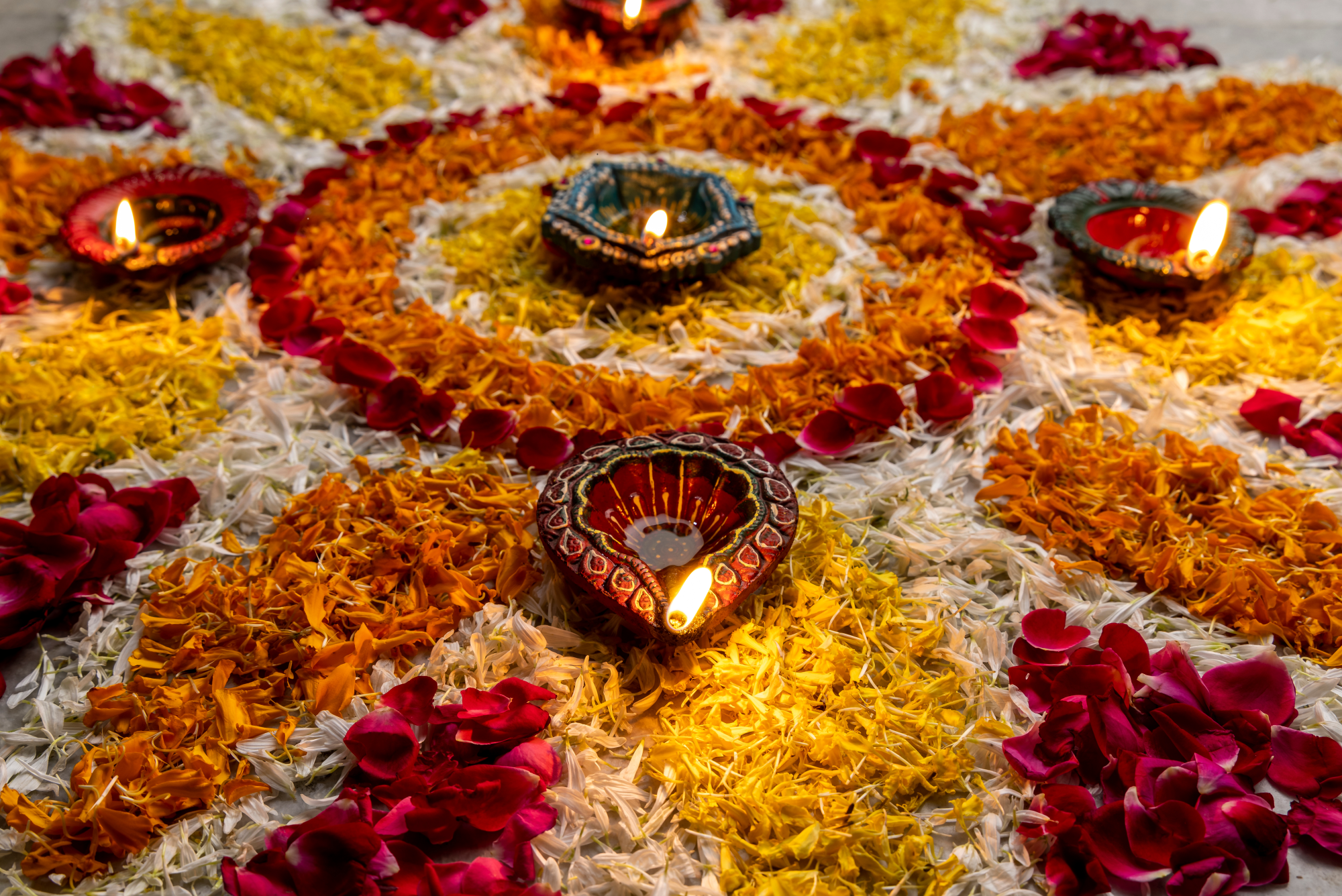 "For my family and I, preparations starts a month or two in advance by cleaning and decorating the home, and purchasing all the necessary things for the festivities. We celebrate Diwali in the United States by taking the whole week off from work, and making Rangoli (an ancient Indian festal form of art) during all seven days. Additionally, we make lots of sweets, savory snacks, and other different kinds of food for each meal while following rituals and religious ceremonies. We also enjoy visiting with our friends and their families. Within our own family we pay respect to all our older family members by bowing to them, and receiving precious gifts and blessings."
"Yes, lighting diyas and candles, and sharing sweets amongst our neighbors and relatives. What's more during the evening we perform pooja (a ritual offering prayer to deities, hosts and honored guest) a spiritual form of celebration during Diwali."
Mostly Light – Diwali Symbolic Messages
To understand what the holiday signifies for those who celebrate through the lens of symbolic activities, we asked our linguists "Which aspects of Diwali resonate most with you, and why?" The answers we received clarified some of the consistent themes of the holiday.
The symbolism focuses heavily on:
Light

Good vs. Evil

And positivity
These are actualized through rituals, prayers, and communities coming together.
Bringing together friends and family for the most delicious part of Diwali are the wealth of cuisines prepared during the five days! Before you continue and explore those recipes here's a deeper dive through our expert's own words on the symbolic meanings of Diwali, and common sayings and blessings that hold great significance.
Foodies at Heart – 7 Things to enjoy during Diwali
Commemorating culture is often done through food rituals such as fasting or sharing traditional feasts. Explore below food cooked and shared during Diwali for friends and family to enjoy!
| | | |
| --- | --- | --- |
| | | Sweet balls made with chick piece flour and deep in sugar syrup. |
| | | Sweets made with cashews, and sometimes saffron. |
| | | Chakli, a spiral shaped crisp deep fried snack, is one of the traditional Indian snack items enjoyed during festivals like Diwali. |
| | | Half-moon-shaped fried pastries are stuffed with a mix of shredded coconut, dried fruits, sesame seeds and delightful seasonings. |
| | | Potato curry (boiled potatoes are simmered in perfectly spiced tomato gravy). Puri is the deep-fried puffed Indian bread. |
| | | Shrikhand is a Gujarati and Marathi sweet dish made of strained yogurt. |
| | | Gulab jamun is a milk-solid-based sweet, originating in India and a type of mithai popular in India, Nepal, Pakistan, the Maldives, and Bangladesh, as well as Myanmar. It is also the declared national dessert of Pakistan officially by Government of Pakistan. |
One of our Freelance Experts shared that if you're ever in Westmont, IL you should try Shree Restaurant, which is a great place for friends and family to share a meal during Diwali. The cuisines provided are linked to helpful videos, or recipes. VE looks forward to you creating them at festive Diwali gatherings next year.
Dive Deeper
In many ways the purpose of blogs are to provide a jumping off point for a reader's exploration and desire to educate. We hope reading this blog makes you Google more, read more, and perhaps participate in Diwali next year! During interviews linguists made it that clear friends and family are welcome to participate and celebrate with those who consider Diwali part of their culture and history. Indeed the Canadian comedian, former talk show host, and YouTuber Lilly Singh threw a massive Diwali celebration in 2021. In attendance were celebrities such as Mindy Kaling, Kunal Nayyar, Kal Penn, and many more which you can see through various tags and post from attendees through Instagram. This holiday has room for everyone! We hope you will check out our previous cultural deep dive as well as other blogs, and keep referring your colleagues to work with TransPerfect so they have the same access to continued work and content.
Shout out to our wonderful linguist who shared their time, a little bit about themselves, and history with Diwali! Thank you for participating.